Healthcare workers picket Fountain Valley Regional Hospital
Fountain Valley Regional Medical CenterApril 26, 2017
More than 200 caregivers picketed outside Fountain Valley Regional Hospital & Medical Center Tuesday demanding a contract that provides competitive wages and ends the hospital's exploitation of part-time and on-call workers.
NBC4 and OC Weekly covered the picket. Click here for a link to the OC Weekly story.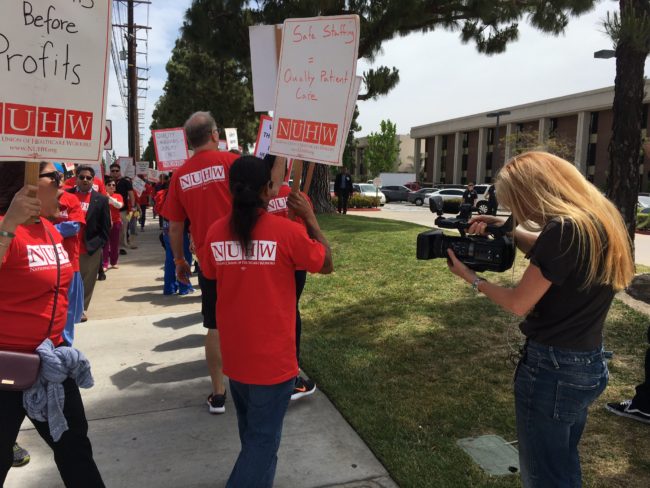 Fountain Valley workers joined NUHW last year, frustrated that Tenet Healthcare Corporation, the Dallas-based company that owns the facility, pays them less than their counterparts at nearby hospitals and fills full-time jobs with part-time and on-call workers who make far less than full-time workers.
Fountain Valley made a $50.7 million profit last year, according to state records. Yet, over the past two years, 42 percent of new hires have been on-call workers, who receive no health benefits.
Speakers during a noontime rally included Santa Ana Councilmember Jose Solorio, Ada Briceno, Secretary-Treasurer of Unite Here Local 11; Irene Arellano, of Clergy and Laity United for Economic Justice; Kathy Canlas, of the Orange County Labor Federation; and Carmella Swanson, of the Coalition of Labor Union Women.
NUHW's nearly 600 Fountain Valley members include nursing assistants, respiratory therapists, radiology technicians, surgical technicians, and maintenance workers.