Governor signs mental health parity bill, SB 855
NewsSeptember 28, 2020
We've made a major breakthrough on expanding access to mental health care.
Last week, Governor Gavin Newsom signed Senate Bill 855, a landmark mental health bill that requires private insurers to cover medically necessary treatments for all mental health and substance use disorders. During the bill-signing ceremony, Gov. Newsom, State Senator Scott Wiener and Sacramento Mayor Darrell Steinberg all recognized NUHW clinicians for championing the legislation.
We partnered with Senator Wiener and mental health advocacy organizations, including the Kennedy Forum and the Steinberg Institute, on SB 855 because the nearly 5,000 mental health clinicians represented by NUHW have seen firsthand how private insurers routinely deny Californians the mental health and addiction treatment services that are promised in their policies.
"This is a big victory for mental health care in California," said Susan Whitney, an NUHW Executive Board member and Kaiser therapist. "SB 855 expands coverage of mental health diagnoses, for children and adults to help achieve true parity with medical or 'physical' health care. It also strengthens our ability to seek enforcement when there are problems accessing that care."
The insurance industry lobbied hard for a veto, but Governor Newsom honored his pledge to improve access to mental health and addiction treatment.
"We commend Governor Newsom for showing once again that he is a champion for equal access to health care and furthering his stated goal of improving the accessibility and quality of mental health and substance use disorder services for all Californians," said NUHW President Sal Rosselli in a statement sent to media shortly after the bill was signed into law. "We also commend State Senator Wiener for drafting the legislation and shepherding it through the Legislature.
"At a moment when the need for mental health and addiction treatment services has never been greater, our state leaders have taken action that will help countless Californians finally access the care they need.
"As Governor Newsom said when signing the bill today, this is a good step toward mental health parity, but there is more work to be done. We look forward to partnering with the governor next year to make further progress."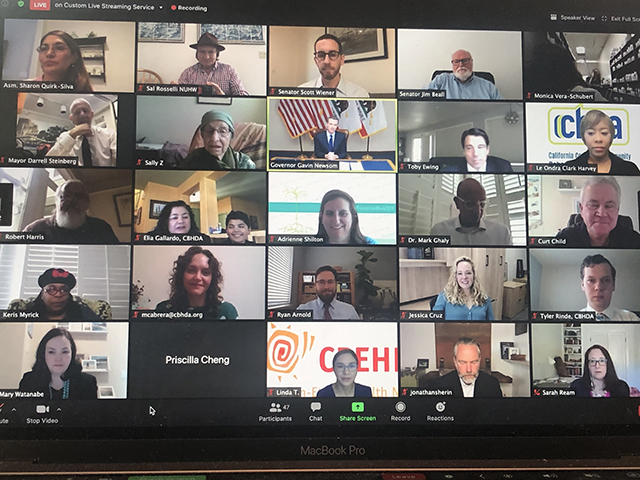 Photo: NUHW President Sal Rosselli participated in the virtual signing ceremony for SB 855
In a nutshell, the bill will:
Require insurers to provide medically necessary care for the full range of mental health and substance use disorders recognized in the standard clinical manuals. That would expand access to care and empower therapists to hold insurers accountable for authorizing the course of treatment that serves their patients best.
Define medically necessary care for mental health and substance use disorders and require private insurers to meet the current generally accepted standards of care for these disorders. That would give therapists concrete tools to demonstrate when insurers are failing to meet their patients' health care needs and help them win the corrective action they require.
Require that when patients can't access timely, nearby care in-network, their insurer, to the maximum extent possible, must arrange to secure them such care out-of-network.