Fountain Valley workers overwhelmingly ratify contract
Fountain Valley Regional Medical CenterMay 8, 2017
Caregivers represented by the National Union of Healthcare Workers overwhelmingly ratified their first contract with Orange County's largest for-profit hospital on Friday.
The three-year agreement includes 15 percent market rate adjustment raises for long-time employees of Fountain Valley Regional Hospital, which had been paying workers far less than neighboring hospitals.
All workers will get raises that significantly exceed previous compensation, in addition to improved health benefits and better job security. Additionally, the contract mandates the creation of a patient care committee that will give caregivers direct input into ensuring quality healthcare.
"This is a big win for workers and patients," said Rafael Michel, a certified nursing assistant. "After giving so much to this hospital, we now have the right to work with management to ensure quality patient care and have a say in decisions that will impact our lives. And we have a contract that secures our jobs, guarantees us better pay and gives us the foundation to keep strengthening our union."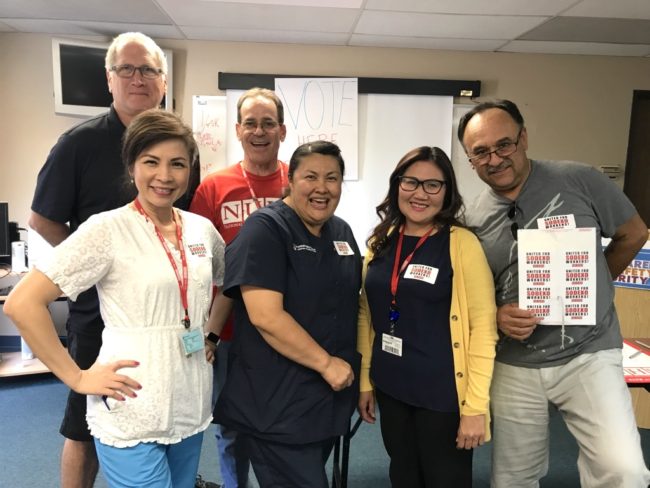 NUHW represents nearly 600 caregivers at Fountain Valley, including nursing assistants, respiratory therapists, radiology technicians, surgical technicians and maintenance workers. They joined the union last year frustrated that Fountain Valley's parent company, Tenet Healthcare Corporation of Dallas, refused to pay competitive wages.
After nine months of negotiations, caregivers voted 88 percent to ratify the contract. The settlement comes on the heels of a successful informational picket last month during which more than 200 people rallied outside the hospital.
"Our members fought hard, and they won a contract that finally gives them the respect they deserve," NUHW President Sal Rosselli said.
Coverage from the OC Weekly of our contract campaign:
Fountain Valley Regional Hospital Workers Win New Contract, Raises
Fountain Valley Hospital Workers Picket for Better Working Conditions