Contract bargaining update (May 7, 2021)
Published Thursday, May 6, 2021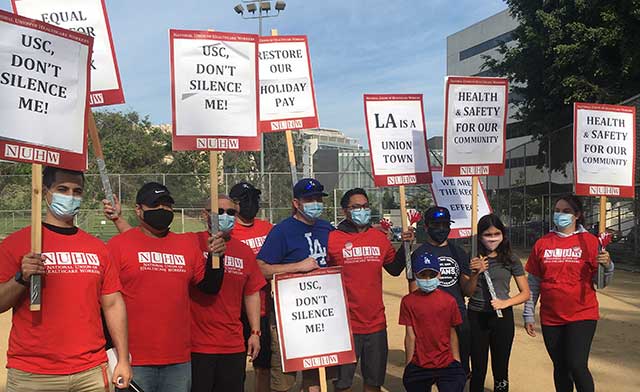 Caregivers at Keck-USC hospitals held a May Day solidarity rally to demand new contracts that protect caregivers from losing their jobs and losing the right to advocate for themselves and their patients.
More than 200 USC workers participated in the May 1 rally that coincided with the expiration of contracts for about 1,500 caregivers at USC Keck Hospital, USC Keck Norris Comprehensive Cancer Center and several university clinics represented by the National Union of Healthcare Workers.
Following the rally, many of the workers participated in Los Angeles' annual May Day March, where Joyce Noguera, a patient care assistant, spoke at a post-march rally outside City Hall.
"For the last year, we have been working through a global pandemic and how does USC repay us?" Noguera told the crowd of about 1,000 people. "They cut our retirement, refuse hazard pay, take away our paid holidays, compromise on worker safety, refuse free healthcare for all and they want to silence us by banning public actions, info pickets and leafleting."
In contract negotiations, USC is demanding the right to subcontract jobs, deny workers at university clinics the same health benefits as their colleagues at USC hospital and prevent workers from publicly criticizing their employers or holding pickets to inform the public about issues inside their hospitals. The university is also refusing to agree to proposals that would guarantee adequate PPE and ensure appropriate safety standards during any future COVID surge or new pandemic.
USC workers have had to confront management previously to win fair contracts, and workers said the May 1 unity rally and march sent a strong message to management that they will not be silenced.
"It was inspiring to see so many of my coworkers and union siblings show our strength on May Day," Noguera said. "We sent a strong message to USC and every employer in Southern California that workers are ready to fight for our rights."