California Kaiser mental health clinicians vote to go on strike until HMO adequately staffs its psychiatric units, ends retaliation against whistleblowers
Kaiser Healthcare ProsOctober 22, 2015
In move to protect patients, 1,500 California Kaiser mental health clinicians vote to go on strike until HMO adequately staffs its psychiatric units, ends retaliation against whistleblowers 
Kaiser's illegal delays and denials of care have led to hardships for patients and families, even suicides, along with a growing number of lawsuits 
"No More Kaiser Suicides" video, released today, exposes the truth behind Kaiser Permanente's mental health care crisis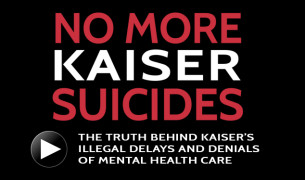 OAKLAND — Mental health clinicians at Kaiser health facilities in Northern California — 1,500 psychologists, therapists, and psychiatric social workers, all members of the National Union of Healthcare Workers — have voted to strike until the giant HMO agrees to hire enough workers to adequately staff its psychiatric departments and ends its retaliation against whistleblowers. An overwhelming 88 percent majority of caregivers voted in support of an open-ended job action to protect their patients. 
Lengthy Delays Continue Despite State Fines and Reprimands
California's Department of Managed Health Care (DMHC) has raised alarms and imposed penalties on Kaiser for "serious" and "systemic" violations of state laws governing mental health care. "Despite penalties from state regulators, Kaiser has done nothing but stonewall its patients and retaliate against caregivers who dare to advocate for them," said Clement Papazian, a psychiatric social worker at Kaiser in Oakland and president of NUHW's Northern California chapter of Kaiser mental health clinicians. "It's time to hold Kaiser accountable." 
The DMHC has investigated and cited Kaiser twice in two years and forced the HMO to pay a $4 million fine for violating mental health parity laws, for providing misleading information to patients and subscribers, and for falsifying records to conceal illegal appointment delays. In its second investigative report, released in February 2015, just a month after Kaiser clinicians held a weeklong statewide strike to protest Kaiser's legal and ethical violations, the DMHC found that Kaiser's violations continue and that the HMO failed to deliver timely care to 22 percent of its Northern California mental health patients. "That is not a good performance," DMHC Director Shelley Rouillard told the Los Angeles Times. "Fundamentally it comes down to there are not enough providers in the Kaiser system to serve everyone who needs mental health services." 
Profits before Patients
These violations have occurred during a time of unprecedented profits for "nonprofit" Kaiser. California's largest HMO, with more than seven million members, has made $16.6 billion since 2009, including $3.1 billion in 2014, and has a reserve of $23 billion. Enrollment has exploded since the Affordable Care Act was implemented in January 2015, boosting the HMO's revenues while dramatically increasing demand for its mental health services. 
Inadequate Staffing
Meanwhile, Kaiser's mental health clinics remain vastly understaffed. Kaiser's recent claims of staffing increases did not take into account its greatly expanded enrollment, staff attrition as clinicians buckle under ever-growing caseloads, or looming retirements — nearly 30 percent of Kaiser's California clinicians are at or approaching retirement age.
"Kaiser's recent hiring doesn't even keep pace with enrollment much less address the staffing deficits we've been saddled with for years," said Papazian. "It's just the latest in a string of PR blitzes Kaiser has launched to avoid dealing with the problem while pocketing billions in profits."
Retaliation against Clinicians and Whistleblowers
Kaiser clinicians throughout the state have been working without a contract for four years because the HMO refuses to agree to common-sense staffing levels and patient protections. Furthermore, Kaiser has retaliated against its clinicians and doctors for blowing the whistle on the company's illegal and unethical delays of care. Among those singled out was Fremont psychologist Alex Wang who was terminated for noting "patient needs to be seen sooner" in a patient's chart. Kaiser has also denied mental health clinicians the raises and benefits it has given to 100,000 other employees. 
"Kaiser's retaliation against its mental health clinicians for their patient advocacy is outrageous," said NUHW President Sal Rosselli. "They've harassed and fired respected psychologists, withheld standard pay increases given to 100,000 other Kaiser employees, and are trying to drastically cut their retirement benefits. Kaiser is trying to intimidate and silence the caregivers who are responsible for bringing Kaiser's failures to light, and whose criticisms have been fully affirmed and vindicated by state regulators."
New Video Says "No More Suicides"
To better explain the breakdown in care, NUHW today released a three-minute video that documents Kaiser's continuing neglect of its mental health patients. "No More Suicides" is available on Facebook, Twitter, YouTube, and at NUHW.org. The video was produced in tandem with Courage Campaign and families who contributed photos of loved ones lost to suicide due to Kaiser's negligence and delays. 
The video is available at:
https://www.facebook.com/nomorekaisersuicides
https://youtu.be/ljimeLa_58U
https://twitter.com/NUHW
https://nuhw.org/kaiser
The Santa Rosa Press Democrat and the Los Angeles Times recently reported on the July suicide of Barbara Ragan, a Kaiser patient and former employee who jumped to her death, Kaiser card in hand, from the parking structure of the HMO's Santa Rosa hospital after struggling to endure an eight-week wait for individual therapy. Ragan's death was "a statement," her husband said, "about the way [Kaiser] treats people."
A Growing Number of Lawsuits by Families of Suicide Victims
Kaiser has been hit with five class-action lawsuits, the most recent of which was filed just two weeks ago in Los Angeles Superior Court. A woman suffering from depression and suicidal ideation after having endured molestation and incest claims Kaiser denied her timely, appropriate care, tried to steer her into group therapy against her will, and ultimately forced her to seek care outside of Kaiser at her own expense. 
Another lawsuit is progressing through Alameda County's courts after an administrative law judge ruled in September that the case should proceed despite Kaiser's motion to dismiss. Fred Paroutaud, the husband of lead plaintiff Susan Futterman, committed suicide while waiting weeks for Kaiser to provide him with a therapy appointment. "All of the Plaintiff's claims," wrote Judge Wynne Carvill, "whether focused on long wait times or the predominance of group therapy as opposed to individual therapy, may well be accounted for by a shortage of providers." 
Courage Campaign Asks Public to Sign Petition for Improvements at Kaiser
To prevent further tragedies at Kaiser, patients, family members, health care workers and concerned citizens can sign Courage Campaign's petition calling on CEO Bernard Tyson to stop denying vital care to Kaiser members: http://www.nomorekaisersuicides.org
For more information, see NUHW.org/Kaiser and Facebook.com/NoMoreKaiserSuicides