"Breakthrough" labor deal causes stir
KaiserAugust 25, 2014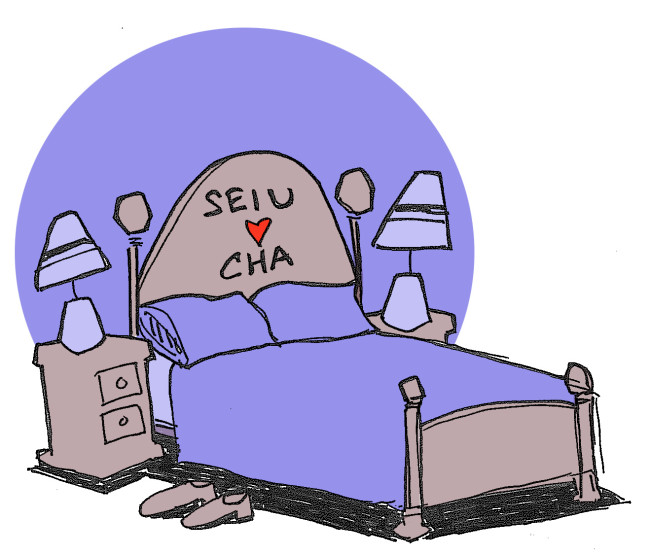 Healthcare Finance News published an August 22 story on the deal between SEIU and the California Hospital Association. The story, by reporter Tammy Worth, quotes NUHW President Sal Rosselli and other critics of the deal.
An agreement reached this past spring between the California Hospital Association and the SEIU-United Healthcare Workers West has been deemed a "breakthrough" in labor relations. The contract, however, has also stirred up controversy between labor and hospitals.

In lieu of signing a traditional labor agreement, the groups have come together to create a deal that includes a code of conduct to govern conversations between union representatives and hospitals. The most unusual part of the agreement includes a $100 million advocacy committee with the goal of improving healthcare delivery. The committee will focus mainly on increasing California's Medi-Cal payments, which are one of the lowest in the country.

One pivotal part of the agreement concerns two ballot initiatives created by the SEIU-UHW, which will now be dropped. One initiative would have capped hospital pricing at no more than 25 percent above the actual cost of care. The other would have capped the salary of executives at nonprofit hospitals at $450,000 annually.

"This is inappropriate collaboration between union leaders and hospital employers," Rosselli said. "It is terrible for workers because the SEIU pre-negotiated a long-term agreement that hospitals are comfortable with the economics of and waives the right of workers to strike and advocate for patients – which, from our point of view, is a fundamental responsibility of healthcare unions."
Click here to read the full story.