Around the Union, December 2015: News and views from throughout NUHW
California Pacific Medical CenterDecember 18, 2015
Keck–USC caregivers overwhelmingly reject hospital's contract proposal, authorize strike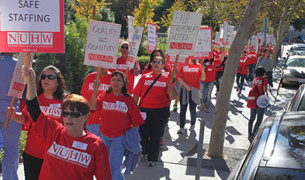 On December 11 Friday, December 11, hundreds of workers at Keck Medical Center of USC, represented by the National Union of Healthcare Workers (NUHW), voted overwhelmingly to reject the University's "last, best, and final" offer in contract negotiations that have dragged on since the contract expired in April. 
The vote paves the way for a strike that could come as soon as early January.
"We are simply refusing to be treated as second-class citizens in the workplace while USC brags to the world about the 'Trojan Family,' " says Alex Corea, a respiratory therapist and member of the bargaining team with 15 years' experience at USC. "Administrators are giving themselves thirty percent raises and paying consultants thousands of dollars a day to tell them how to cut corners on patient care, while caregivers are getting nickel-and-dimed." 
The vote hinged on several aspects of the University's offer that were unacceptable to the union members, but some of the most egregious include a wage scale that leaves hundreds of workers well below the market rate for their positions. Some earn as little as $12 an hour for work that has dire consequences for patient safety if it's not done correctly. Staffing issues, which the University's offer fails to adequately address, leave overworked and underpaid staff rushing through jobs that require meticulous attention to detail.
"My job is vital to keeping patients safe," says Susie Ruvalcaba, a patient care technician with 19 years on the job, "but the demands that the administration places on me makes it extremely hard for me to do it well. When they add to my workload and force me to rush from one task to another, the patients suffer for it." 
"Keck–USC can't claim it wants to be 'world-class' while it forces us to race through our work," says Ruvalcaba. "And for what, to save a couple of dollars here and there?"
Keck–USC caregivers hope that their overwhelming rejection of the University's offer will compel the administration to return to the bargaining table to negotiate in good faith for a contract that both sides can be happy with—one that satisfies the workers' need for just compensation and respect and dignity for the work that they do, and enables them to attain the University's goal in making Keck–USC a world-class medical facility for the 21st century.
St. Joseph campaign heats up in Humboldt County 
St. Joseph workers in Humboldt County are stepping up their community-outreach campaign to win a fair first contract at St. Joseph Eureka and Redwood Memorial Hospital in Fortuna. Workers tabled at Eureka's monthly Arts Alive!, educating festivalgoers about St. Joseph's poverty wages. Many community members posed for photographs holding signs that read "I support St. Joe's workers," or "End Poverty Wages at St. Joseph." NUHW members spoke during public comment at a Eureka City Council meeting and called in to a local radio show to attest to the poor wages and working conditions at the two hospitals, both of which were forced to close departments and eliminate beds due to understaffing.
In bargaining, the union team presented a comprehensive wage proposal to raise wages to a market-competitive level. In the near future, workers will take their calls for fair wages and safe staffing to local city and county governments — St. Joseph is a nonprofit that is tax-exempt, yet pays its workers so poorly that many are forced to rely on public assistance.
Click here to read NUHW's report, Uncompensated Care: How St. Joseph's Low Wages Leave Caregivers Behind.
Sonoma County workers convince St. Joseph to back off unilateral cuts
In response to management declaring unilateral cuts to health care and retirement benefits, workers at Santa Rosa Memorial Hospital filed an Unfair Labor Practice and began circulating a "NO CUTS!" petition. When word reached the employer, management quickly rescinded its unilateral implementation of the cuts and agreed to bargain with the union. 
At Petaluma Valley, 18 more service and technical workers voted to join NUHW. The 13-1 vote creates a wall-to-wall NUHW service and technical unit at the hospital.