Organizing for mental health
We believe mental health care is a civil right. 
NUHW-represented mental health clinicians are leading the fight to hold healthcare corporations accountable to state and federal mental health parity laws. Patients suffering from depression, anxiety, schizophrenia, or bipolar disorder can't afford to wait weeks or months for care.
We fight for greater access to mental health care, higher quality care, and better working conditions so that we have the tools and security to best serve our patients.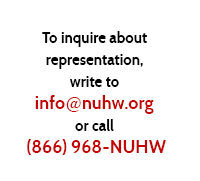 Without a union, mental health clinicians have no protections, no vote, and no voice. By joining NUHW, we won a voice in the decision-making process at Kaiser Permanente, the nation's largest HMO.
We won employment security that allows us to advocate for our patients and ourselves without fear of retaliation. We also won a contract that makes us among the highest paid psychologists, therapists, social workers, and psychiatric nurses in the country.
NUHW helped us get organized. They gave us the tools and the know-how to start changing the system.
NUHW is unique among unions. It's member-driven, democratic, and willing to fight the good fight, no matter what it takes. In NUHW, we make the decisions. With guidance and advice from union staff, we, the members, decide how to pursue our goals and effect change in our workplaces. 
We have a long way to go to achieve mental health parity in this country, but NUHW has taken the first steps. It's time to take the fight for mental health parity to other states and to other health systems.