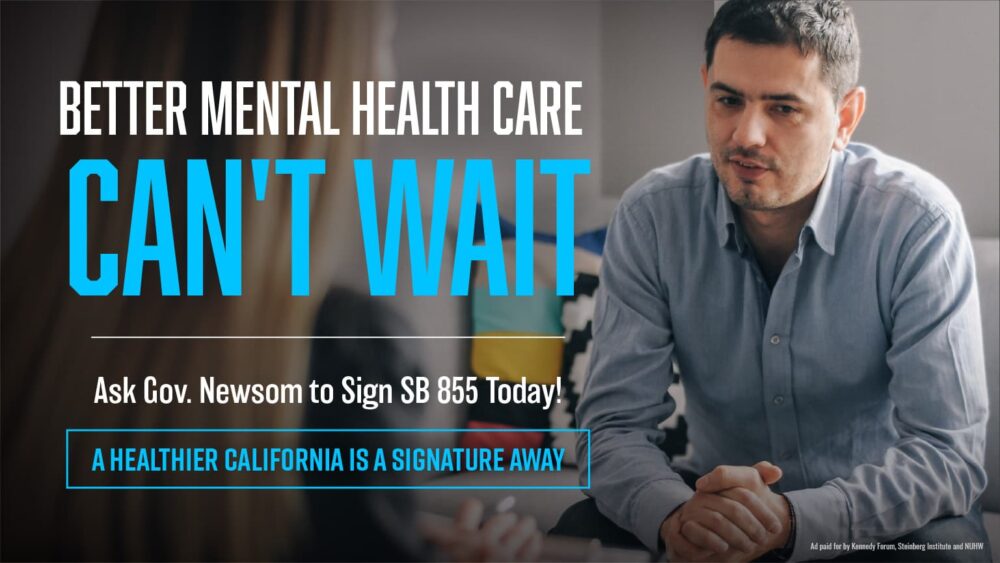 Sign the Petition: Gov. Newsom, Sign SB 855!
The Issue
Californians are sick of being denied coverage for mental health and addiction treatment because insurers say the care isn't "medically necessary."
Now, COVID-19 has made access to mental health and addiction treatment services even harder to come by.
That's why we're urging Governor Newsom to sign SB 855, a bipartisan bill that empowers patients and their providers — not insurers — to set the best course of care.
SB 855 would:
Require insurers to provide medically necessary care for all mental health and substance use disorders.
Define medically necessary care for mental health and substance use disorders so services must meet generally accepted standards of care.
Require that when patients can't access timely, nearby care in-network, insurers must cover needed care out-of-network.
These and other reforms in SB 855 would make access to behavioral health care the same as access to physical health care, expand the availability of behavioral health services, and give patients and their providers strong tools to hold insurers accountable for equal coverage.
The Petition
Dear Governor Newsom:
I urge you to make California the nation's leader in parity for mental health and addiction treatment services by signing SB 855.
SB 855 would expand Californians' access to care and empower providers to help more people in a timely manner.
SB 855 passed with strong bipartisan support because everyone agrees that Californians with health insurance should be covered for ALL our health care needs.
"Please honor the commitment of patients and clinicians, professional associations and provider groups, health advocates and community organizations, and lawmakers to increase access to care."
Sign SB 855 into law today.