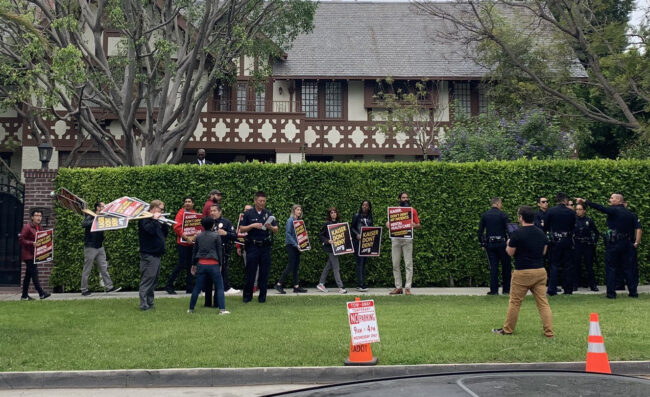 NUHW members protest at private Biden fundraiser hosted by Kaiser board member
May 30th, 2019
NUHW-represented mental health clinicians protested a May 8 fundraiser for Joe Biden at the Los Angeles home of Cynthia Telles, who is the only mental health professional on Kaiser's board of directors.
Telles, a licensed psychologist and prominent Democratic fundraiser, has been paid nearly $3 million since 2003 to serve as the only mental health professional on Kaiser's 14-member Board of Directors. Yet, she has rejected every meeting request from Kaiser mental health clinicians seeking to work with her to help fix Kaiser's broken mental health system that forces patients to wait weeks or even months to see their therapists.
"Our patients are waiting six-to-eight weeks for a follow up, Kaiser social worker Eric Pierce told ABC News. "Many of our patients are suicidal. Many of our patients are severely depressed and to wait six-to-eight weeks is a travesty,"
The protest generated a lot of media attention. Clinicians were interviewed about mental health care at Kaiser by reporters from the Los Angeles Times, ABC National, ABC7, Fox11, KTLA5, CBS209, Reuters and the Wall Street Journal. The protest was also covered by ABC Radio, HuffPost, The Hill, Daily Kos and Common Dreams.
We reached out to members of Biden's campaign team prior to the fundraiser, letting them know that we would not protest if he agreed to tell Telles and other Kaiser executives at the fundraiser to work with us to improve access to care. But they never got back to us, and, according to press reports, Biden did not mention our protest during the fundraiser. Biden also didn't stop to talk to protesters on his way into Telles' home.
"He's stated … that he's a union man and that he supports unions," Stacy Cohen, a Kaiser therapist told the Los Angeles Times. "He's talked about mental health parity and how important it is. "And yet he's refusing to meet with us who are the direct providers."