Kaiser,
Don't Deny
Patients need access to consistent, reliable mental health services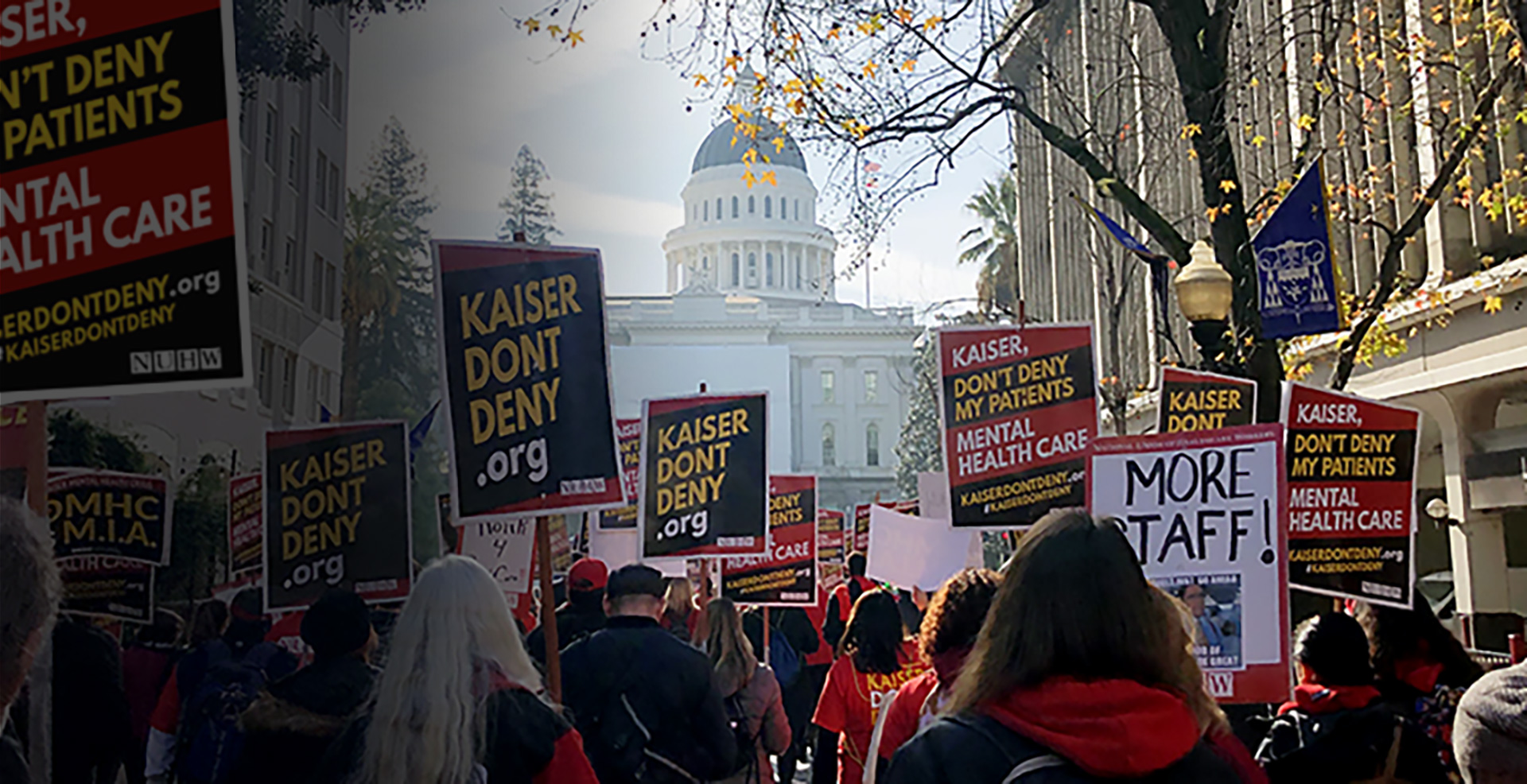 Legislation
Fresh off their victory helping to pass SB 855, a groundbreaking bill that expands Californians' access to mental health care, NUHW Kaiser clinicians are working to pass an equally important parity bill, SB 221.
Authored by State Sen. Scott Wiener, SB 221 would close a loophole that allows HMOs and other health insurers to make patients being treated for mental health or substance use disorders wait many weeks or even months for return appointments despite the fact that they are required to provide initial mental health and substance use disorder appointments within 10 business days.
This double-standard has resulted in far too many Californians being forced to wait much longer than clinically appropriate for mental health or substance use disorder appointments. Studies have shown that patients who cannot get timely care often see their conditions worsen, face increased risk of suicide, and are ultiamtley more likely to require more intensive and expensive care.
Under SB 221, HMOs and other health insurers would be required to provide return appointments within the same 10-business-day window that is already required for initial appointments — unless a patient's clinician determines that a longer gap between appointments is appropriate for their needs.
You can learn more about the bill from this fact sheet. 
State Sen. Wiener also authored SB 855, which went into effect on Jan. 1, 2021. That bill requires private insurers to cover medically necessary treatment for all recognized mental health and substance use disorders, and requires that such treatment be clinically appropriate in terms of type, frequency, extent, site, and duration. SB 855 also requires that medical necessity determinations be based on generally accepted standards of mental health and substance use disorder care, and that utilization reviews must follow guidelines developed by the nonprofit professional association for the relevant clinical specialty.
Prior to the new law, California insurers had been required to provide medically necessary care for only nine major mental health disorders and no substance use disorders. As a result, many clinicians struggled to serve patients who reasonably assumed that their insurer would cover the mental health and substance use disorder treatment that they needed only to find out otherwise.
The new law requires that when patients can't access timely, nearby care in-network, insurers must not only cover needed care out-of-network, but help connect patients to out-of-network providers who will accept them.
Has Kaiser Permanente delayed or denied your mental health care?
Have you or a loved one been forced to endure long waits for appointments?