IBHS 2021 contract bargaining platform
Dear IBHS members:
Please read the bargaining platform below and then click the button to sign on in support.
Based on the bargaining survey completed by over 70% of our members, the NUHW IBHS Bargaining Committee has set the following goals as top priorities for negotiations with Kaiser: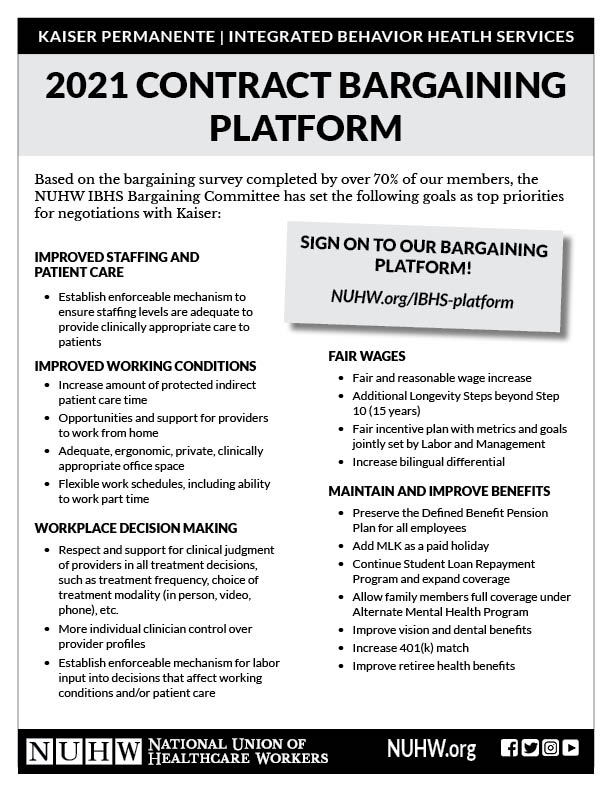 Sign on to our bargaining platform here!
Improved staffing and 
patient care
Establish enforceable mechanism to ensure staffing levels are adequate to provide clinically appropriate care to patients
Improved 
working conditions
Increase amount of protected indirect patient care time
Opportunities and support for providers to work from home
Adequate, ergonomic, private, clinically appropriate office space
Flexible work schedules, including ability to work part time
Workplace decision making
Respect and support for clinical judgment of providers in all treatment decisions, such as treatment frequency, choice of treatment modality (in person, video, phone), etc.
More individual clinician control over provider profiles
Establish enforceable mechanism for labor input into decisions that affect working conditions and/or patient care
Fair wages
Fair and reasonable wage increase
Additional Longevity Steps beyond Step 10 (15 years)
Fair incentive plan with metrics and goals jointly set by Labor and Management
Increase bilingual differential
Maintain and improve benefits
Preserve the Defined Benefit Pension Plan for all employees
Add MLK as a paid holiday
Continue Student Loan Repayment Program and expand coverage
Allow family members full coverage under Alternate Mental Health Program
Improve vision and dental benefits
Increase 401(k) match
Improve retiree health benefits
---

Sign on to our bargaining platform here!