Our campaign is about fighting for caregivers and patients.
USC healthcare workers are fighting for fair wages, affordable health care, and the right to advocate for our patients.
We have a tentative agreement!
Published Wednesday, July 14, 2021
#
We have a new Tentative Agreement! Join a General Membership meeting to learn more  about it and get your questions answered!
Keck/Norris Meetings:
Clinic and Call Center Meeting:
---
Summary of our tentative agreement:
Wages: Wage scales that achieve parity with UCLA wages where we were behind and maintains additional increases for where we were already ahead

Parity in wages between the Hospitals and Ambulatory with scales

Establishing wage scales that inflate each year in Clinics and Call Center

Keck FT and PT: Minimum increases of 10.9% and maximums of 39% for the 3 years

Ambulatory Clinics FT and PT: Minimum increase of 10.9% and maximum of 44% for the 3 years

Call Center FT and PT: Minimum increase of 10.9% and maximum of 68% for the 3 years

Employee Appreciation Bonus: Employee Appreciation Bonus of $1850 for FT employees and $925 for Part time and Per Diems

Free Health Insurance: Expanding fully employer paid health insurance for employees and their families for Ambulatory Clinics and Call Center, and maintaining it for Keck and Norris

Norris Holiday Pay: Complete restoration of Norris Holiday Pay

Retirement: In-writing restoration of our retirement contributions: employer automatic 5% contribution restored on January 1st, 2022

Differentials: Increased to all shift differentials, all standby / on call rates, nearly all weekend differentials, increases to extra shift bonuses

Attendance Policy: Restoration of attendance policy before the punitive 2020 changes.  Kincare not counted toward discipline.

Keck PTO Cash out: No penalty for cash out of PTO

Missed Meal and Rest Break Compensation: Penalty Pay for Missed Breaks

Contract Enforcement: Faster Arbitration for resolving disputes

Union Power: Common Expiration of all 3 contracts

Clinics United: Single bargaining unit for all clinics

No takeaways!
USC healthcare workers overwhelmingly authorize 5-day strike
Published Wednesday, May 26, 2021
#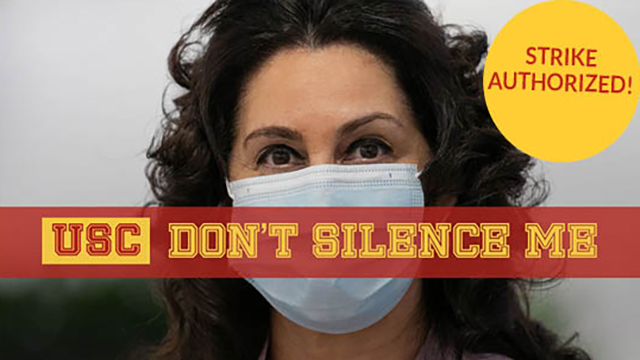 Vote sets stage for more than 1,500 workers to potentially strike university-run hospitals and clinics next month
LOS ANGELES — More than 1,500 healthcare workers at Keck Hospital of USC, USC Norris Comprehensive Cancer Center and several university clinics and call centers have authorized a 5-day strike. After a week of voting, more than two-thirds of workers cast ballots and 96 percent of the ballots cast supported the strike authorization.
No strike date has been set, and negotiations are scheduled to resume Thursday.
The workers, who include nursing assistants, respiratory therapists, housekeepers, medical technicians and licensed vocational nurses represented by the National Union of Healthcare Workers, are fighting to improve wages, protect their health and retirement benefits and preserve their right to inform the public about conditions inside their hospitals.
"USC has mistreated its caregivers during the pandemic," said Patricia Barahona, a patient care technician at Keck Hospital of USC. "We've put our lives on the line for our patients; meanwhile the university has cut our retirement benefits, made it harder for us to take sick leave and refused to offer hazard pay to maintain staffing even during the worst days of the COVID-19 surge."
USC cancelled its annual 5 percent contribution to employee retirement accounts last year, and has so far rejected proposals from healthcare workers to reverse the takeaway.
At the bargaining table, USC is also:
Demanding a 9 percent increase in employee health care premiums.

Refusing to restore holiday pay for workers at the Norris cancer hospital.

Insisting on the right to subcontract workers.

Refusing to guarantee emergency housing and hazard pay in the event of a future pandemic.

Seeking to eliminate the right of workers to hold pickets or public protests even to inform the public about patient care concerns for the duration of the contract.
Caregivers protested outside Keck Hospital of USC last year against the university imposing rules that limited sick leave and imposed harsh penalties on workers who need more time to recover from illnesses or take care of their sick family members. That protest, which took place just one month before California's first shelter-in-place order, would have been forbidden under the university's current proposal.
"We can't provide the care our patients deserve, if we can't inform the public of problems we see in our hospitals," April Henriquez, a support coordinator at Keck Hospital of USC. "We don't want to strike, but we've been through too much to let USC cut our benefits, put our safety at risk or prevent us from speaking out and advocating for our patients."
Contract bargaining update (May 7, 2021)
Published Thursday, May 6, 2021
#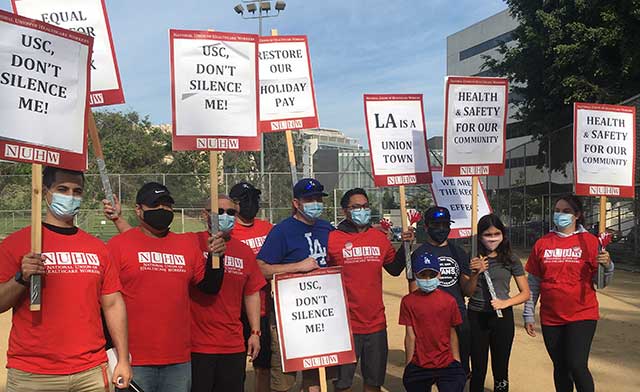 Caregivers at Keck-USC hospitals held a May Day solidarity rally to demand new contracts that protect caregivers from losing their jobs and losing the right to advocate for themselves and their patients.
More than 200 USC workers participated in the May 1 rally that coincided with the expiration of contracts for about 1,500 caregivers at USC Keck Hospital, USC Keck Norris Comprehensive Cancer Center and several university clinics represented by the National Union of Healthcare Workers.
Following the rally, many of the workers participated in Los Angeles' annual May Day March, where Joyce Noguera, a patient care assistant, spoke at a post-march rally outside City Hall.
"For the last year, we have been working through a global pandemic and how does USC repay us?" Noguera told the crowd of about 1,000 people. "They cut our retirement, refuse hazard pay, take away our paid holidays, compromise on worker safety, refuse free healthcare for all and they want to silence us by banning public actions, info pickets and leafleting."
In contract negotiations, USC is demanding the right to subcontract jobs, deny workers at university clinics the same health benefits as their colleagues at USC hospital and prevent workers from publicly criticizing their employers or holding pickets to inform the public about issues inside their hospitals. The university is also refusing to agree to proposals that would guarantee adequate PPE and ensure appropriate safety standards during any future COVID surge or new pandemic.
USC workers have had to confront management previously to win fair contracts, and workers said the May 1 unity rally and march sent a strong message to management that they will not be silenced.
"It was inspiring to see so many of my coworkers and union siblings show our strength on May Day," Noguera said. "We sent a strong message to USC and every employer in Southern California that workers are ready to fight for our rights."