Kaiser RNs: AFN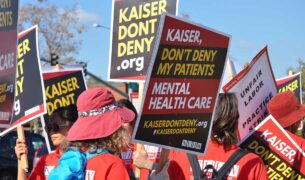 December 15th, 2018
On the last day of our statewide mental health strike, we braved the rain in the Bay Area and celebrated our achievements on picket lines across the state. Our picket at Oakland Medical Center was epic — we had a vocal and robust crowd of more than 400 NUHW members, CNA members, Kaiser optical workers, […]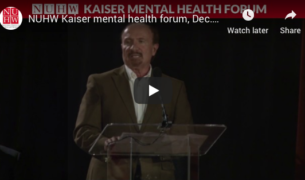 December 12th, 2018
The National Union of Healthcare Workers held a mental health forum in Oakland to discuss Kaiser Permanente's delays and denials of mental health care. Patients and their families shared their experiences of struggling to obtain care and the sometimes tragic outcomes that have resulted from Kaiser's inadequate care; clinicians discussed the difficulties and frustrations of […]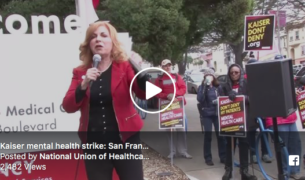 December 10th, 2018
Sonoma County Supervisor Shirlee Zane and the Brown family of Santa Rosa share their stories with striking NUHW-represented Kaiser mental health clinicians in San Francisco. Zane and the Browns lost loved ones to suicide after Kaiser Permanente Thrive denied them the mental health care they desperately needed.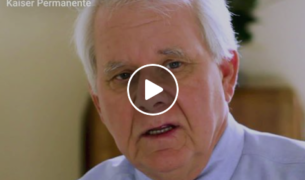 November 27th, 2018
You can't wait a month and a half for mental healthcare. That's what Kaiser Permanente Thrive does to its patients — it prevents them from seeing their therapists in their hour of need. What good is the diagnosis, if you can't receive the treatment? Kaiser is failing to live up to its obligations as a […]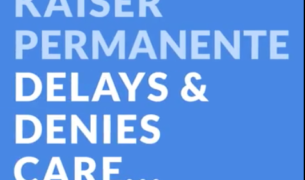 November 25th, 2018
Have you waited weeks or months for mental health appointments? Have you been pushed into group therapy or forced to pay out-of-pocket for non-Kaiser therapists? Share your story with us at kaiserdontdeny.org. We represent Kaiser mental health clinicians who are working to make Kaiser finally deliver timely, consistent mental health care.